I decided to make this first post something sweet, just like me. Seriously though, I love honey. I love anything related to honey. When I think honey, I think baklava. Oh yeah, baklava! Sticky, syrupy square of heaven. I make it once or twice a year. I should make it more often, but then I would eat it more often, and I don't think my hips would appreciate that...On to the baklava!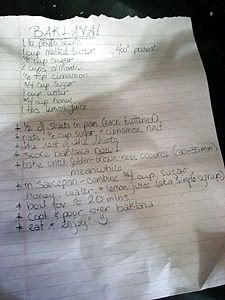 I'll post the actual recipe below. I found it over
here
. This is what most of my recipes look like. Scraps of paper thrown into drawers and random books. I keep saying that one day I will organize my recipes, but who knows when that day will be....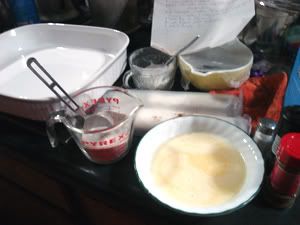 I try to get everything ready before I get going, but I always make it complicated and end up with a big mess.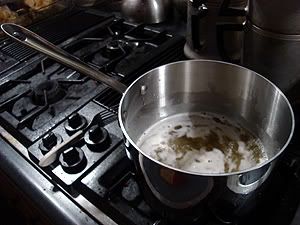 Mmmm...honey. Yummy.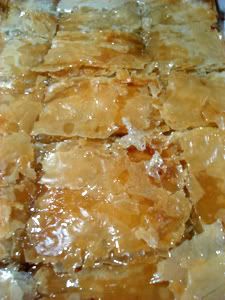 You know you want to try this. You know you can almost taste it right now. Okay, don't worry. Here's the recipe....
Easy Baklava
1 pound frozen phyllo sheets
1 cup melted butter
2 cups finely chopped almonds*
1/2 cup sugar
1/2 teaspoon ground cinnamon
3/4 cup sugar
3/4 cup honey
1 cup water
1 tablespoon lemon juice
*You can obviously use walnuts, I'm just not a huge fan of walnuts.
1. Thaw phyllo dough.
2. Preheat oven to 400 degrees F.
3. Grease baking pan. It calls for a 15"x10"x1". I think I used a 9"x13".
4. Layer half of the sheet, brushing melted butter between each sheet.
5. Combine nuts, 1/2 cup sugar, and cinnamon. Sprinkle all over the top of the sheet of dough.
6. Layer the remaining sheets, buttering each one as before.
7. Cut phyllo dough into diamonds (I do rectangles) and bake for 30-35 mins.
8. Meanwhile, combine water, 3/4 cup sugar, honey, and lemon juice in a saucepan and bring to a boil. Boil for 20 mins. stirring occasionally.
9. Cool mixture a bit, and then pour it all over the baklava.
10. Eat and enjoy! :)